What's New?
Presentation to IAME 2023: Brooks, Mary R. and Christa Sys(2023). The changing landscape in competition policy for liner shipping companies. Presentation to the International Association of Maritime Economists Annual Conference, Long Beach California, September 6. Link on 'speeches and webinars' tab.
Publication: Brooks, Mary R. (2023). Safer Ships and Cleaner Seas: Reducing Vessel Risks through Targeted Inspections and Recognized Organization Oversight, Ocean Yearbook 37, Brill Nijhoff, pp. 411-430. Available online 26 May 2023.
Appointment: January 2023 to the U.S National Academies committee: Best Practices for the Efficient Supply of Chassis for Transporting Intermodal Containers. This congressionally-mandated committee (under the Ocean Shipping Reform Act of 2022) will study approaches for supplying the chassis used by motor carriers, railroads, and marine terminal operators to transport intermodal containers. The Committee is to report in April of 2024.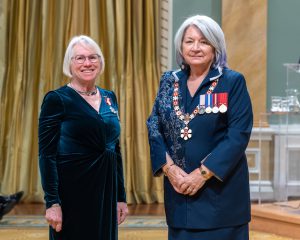 Honours Accepted: On 29 December 2021, the Governor General of Canada announced that Mary R. Brooks was made a Member of the Order of Canada (photo from the ceremony 1 December 2022). The Honour recognizes the outstanding merit or distinguished serviceof Canadians who make a major difference to Canada through lifelong contributions in every field of endeavour. The honour was given for "being an internationally renowned scholar in the field of marine transportation performance and supply chain management". This honour was followed by a Queen Elizabeth II Platinum Jubilee medal on September 27, 2022 for education and marine transportation.
 Publication: Brooks, Mary R., Geraldine Knatz, Athanasios A. Pallis and Gordon Wilmsmeier (2022). Transparency in port governance: setting a research agenda, Journal of Shipping and Trade, 7(1), DOI: 10.1186/s41072-021-00103-4.
Last liner shipping and competition publication: Brooks, Mary R., Christa Sys, and Thierry Vanelslander (2021). Regulation in the liner shipping industry: pathways to a balance of interests, International Journal of Transport Economics, 48 (3-4), 289-313. Sorry but the DOI link is currently broken for this article.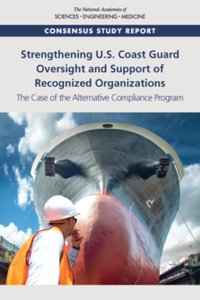 Consensus Study Available: As Chair of the National Academies of Sciences, Engineering, and Medicine Committee on the assessment of the effectiveness of the U.S. Coast Guard's oversight of recognized organizations (ROs), I am pleased that the consensus report is now available. To download the pdf report without charge, click here. A printed version is also available at a cost.
Published Fall 2021: Brooks, Mary R., Geraldine Knatz, Athanasios A. Pallis and Gordon Wilmsmeier (2021), Visibility and verifiability in port governance transparency: exploring stakeholder expectations, WMU Journal of Maritime Affairs, DOI: 10.1007/s13437-021-00250-2.
Editorial duties: TR News July/August 2021 issue (number 334) "Innovations on the Horizon: Research Needs for the Marine Transportation System of the Future". I served as author liasion and Steering Committee chair, ensuring that these topics of importance were delivered to industry and scholars in a timely way.
In 2018, Mary R. Brooks was recognized for her lifetime contribution to the field with the Onassis Prize in Shipping.
Contact Information
Mobile: +1-902-818-2539
e-mail: maryrbrooks@mac.com